Prof. Dr. Houssain Kettani
Florida Polytechnic University, Lakeland, Florida, United States

Dr. Houssain Kettani received the Bachelor's degree in Electrical and Electronic Engineering from Eastern Mediterranean University at Famagusta, North Cyprus, in 1998, and Master's and Doctorate degrees both in Electrical Engineering from the University of Wisconsin at Madison, Wisconsin, USA in 2000 and 2002, respectively.

Dr. Kettani served as faculty member at the University of South Alabama at Mobile, Alabama, USA in 2002-2003, Jackson State University at Jackson, Mississippi, USA in 2003-2007, Polytechnic University of Puerto Rico at San Juan, Puerto Rico, USA in 2007-2012, Fort Hays State University at Hays, Kansas, USA in 2012-2016 and Florida Polytechnic University at Lakeland, Florida, USA, since 2016.

Dr. Kettani has served as Staff Research Assistant at Los Alamos National Laboratory at Los Alamos, New Mexico, USA in summer of 2000, Visiting Research Professor at Oak Ridge National Laboratory at Oak Ridge, Tennessee in summers of 2005 to 2011, Visiting Research Professor at the Arctic Region Supercomputing Center at the University of Alaska at Fairbanks, Alaska, USA in summer of 2008 and Visiting Professor at the Joint Institute for Computational Sciences at the University of Tennessee at Knoxville, Tennessee in summer of 2010.

Dr. Kettani's research interests include computational science and engineering, high performance computing algorithms, information retrieval, network traffic characterization, number theory, robust control and optimization, and Muslim population studies. He presented his research in over sixty refereed conference and journal publications and his work received over four hundred citations by researchers all over the world. He chaired over hundred international conferences throughout the world and successfully secured external funding in millions of dollars for research and education from US federal agencies such as NSF, DOE, DOD, and NRC.
Prof. Dr. Vassilis C. Gerogiannis
Technological Educational Institute of Thessaly, Greece

Dr. Vassilis C. Gerogiannis is a Full Time Professor, teaching undergraduate and postgraduate courses, in the fields of "Information Systems", "Project Management" and "Systems Analysis & Design", at the Department of Business Administration of the Technological Education Institute of Thessaly, Greece (University of Applied Science of Thessaly, Greece). He is also an Adjunct Professor, teaching Software Engineering, at the Hellenic Open University, Greece. From 2016, Prof. Gerogiannis is the Head of the Department of Business Administration at the School of Business and Economics of the Technological Education Institute of Thessaly, Greece. From 2016, he is the elected Secretary General of the Hellenic Technical Chamber of Engineers at the Section of Central and Western Greece. In the recent past, he was the Scientific Director of the Institute for Lifelong Education of the Technological Education Institute of Thessaly, Greece. He was also a visiting Lecturer at the University of Thessaly, Greece, at the Aristotle University of Thessaloniki, Greece as well as a visiting Professor at the IPAG Business School, Nice, France, at the Siauliai State College, Siauliai, Lithuania and at the American University of Beirut, Beirut, Lebanon.

Prof. Gerogiannis received his Diploma from the Department of Computer Engineering and Informatics of the University of Patras, Greece in 1992 and his PhD in Software Engineering from the Department of Mathematics of the University of Patras, Greece in 2001.
From 1993 until present, Prof. Gerogiannis has been participated as a technical consultant, software engineer and project manager in numerous R&D projects funded by the European Union or national organizations in Greece. He has authored and co-authored more than 150 papers in international journals/conference proceedings with more than 550 citations. He is a member of the editorial board and reviewer for many international journals and he has received the "best paper award" in two international conferences. His research interests are on software engineering, software requirements engineering, decision making with fuzzy logic approaches, project management and software project management.
Prof. Salah Al-Majeed
Military Technological College, Ministry of Defence, Oman

Prof Salah Al-Majeed is a Deputy Head of Systems Engineering Department at MTC Oman, where he also served as an Engineering Foundation Programme Leader. Salah is a Visiting Professor (fellow) at School of Computer Science and Electronic Engineering, University of Essex – UK since 2012. Prior to his current position, he was leading ICT PhD programme as well as his role as Head of Broadcast and Broadband Mobile Multimedia Communication Research Group at Electrical and Electronic Engineering Department, Nazerbayev University, Kazakhstan.

In addition to his role as academic and manager, Prof Al-Majeed has an extensive portfolio of Industrial, Academia and R&D works, leading the innovation of implementing wireless technology. Conduct research into issues and challenges in data exploration through Internet of Things (IoT) and Smart Environment (including Smart City and Biomedical and Health informatics) from a multitude of perspectives, which is driving breakthroughs and innovation in a range of areas, such as Sensor, E-Health , Telemedicine and Mobile Telemedicine , Wireless Networks (4G and 5G) for different layers and applications. Where that can be seen through his role as a lead consultant at North Caspian Operating Company - NCOC – Kazakhstan for Sensabot project and collaborating closely with Huawei, Shell and Carnegie Mellon University – CMU, USA. In addition, his research projects were supported and funded by UK, EU and International organizations and companies.

Prof Al-Majeed is an Editor-in-Chief of Computer Science Engineering: An International Journal, and Editorial Member, International Journal of Computer Science, Engineering and Applications. In addition to his recognition as a Senior Member of IEEE, he is a reviewer for many well-known journals including IEEE transections and an invited keynote speaker for many of international conferences and events. He is currently Technical Activities Officer of IEEE Oman Section.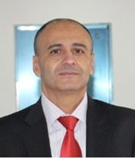 Prof. Nabil EL KADHI
University of Buraimi, Sultunate of Oman
Professor Nabil EL KADHI works as Deputy Vice-Chacellor for Academic Affairs in University of Buraimi, Sultunate of Oman now. He has 13 years of experience in management-high education and research units. He assumed various positions starting from project manager and department head to lab director, Dean and recently Provost at AMA International University Bahrain. Professor EL KADHI has more than 20 years of teaching experience in higher education institutions. He has a PhD in Computer Sciences "formal verification of cryptographic protocols (INRIA Rocquencourt France (1998-2000) with the initiative Verified Internet Protocols and the European project TASK)". He started his professional activities early 90th as a lecturer, programmer and IT manager in public/private institutions. He worked at EPITCH-Paris (2000-2008); he was major stone in developing EPITECH Curricula and research activities. Professor EL KADHI contributed to several industrial projects: Artificial intelligence, automatic translation, secure payment, smart card use, Automation, Mechatronics and Robotics As vice-president of KnK Partner, a think tank to bridge the gap between universities and corporate, he developed, managed 3 specialized Master degrees. As a manager and strategic leader, he successfully conduct various QA and accreditations with various scopes: institutional, programme review and international accreditations Professor EL KADHI has more than 50 International publications indexed by ACM, IEEE, DBLP and others, he is reviewers in various engineering and computer sciences international scientific journals. He is considered today as one among the international.